With all that's going on, you can't help but feeling thankful that Spring Break couldn't have come at a better time. However, with most travel plans canceled, major sporting events suspended & museums closed, here are some ideas for spending time together this holiday.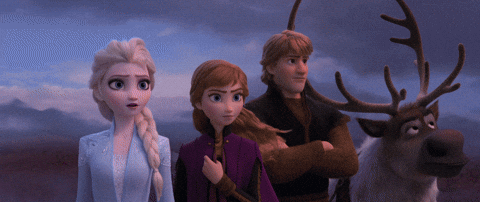 Okay, this one is either great news or bad news depending on how many times you've watched it, or have heard Into The Unknownon repeat. Disney+ is releasing the hit three months in advance, helping parents to combat the extended break due to school closure. 
It's actually really, really good. In fact, I wouldn't mind watching it again.
There, I said it. 😆
Reading time
Source: storylineonline.net
If your kids are into reading, or if you want to find a new way to make screen time more fun, check out Storyline Online. It's a FREE library of Screen Actor's Guild that will have renowned actors and actresses such as Kristen Bell, Sarah Silverman, and Chris Pine reading their favorite books! They also have a dedicated activity guide (intended for teachers, but very helpful) in each story to get them even more engaged with the story.
You can watch them on Youtube, PC or via their app. Seriously, that's probably one of the best free resources I've found. 
How to get your child to wash his hands for 20 seconds?
It is recommended that you scrub your hands for at least 20 seconds. Here's a fun way of doing it: Teach them to sing Happy Birthday TWICE while washing their hands. It's something I picked up in the washroom of Toy R Us last year.
GENIUS, right? 
Social distancing doesn't mean being disconnected 
Source: time.com
It's hard to keep a toddler entertained throughout the holiday, let alone one which you have to avoid crowds. You would also be extra worried for your parents too since they're more susceptible to the virus. Let's admit it, it is easy to feel frustrated. However, let's take this as an opportunity to be creative in ways we connect with our loved ones. 
Schedule virtual hang out time with friends & family
Both of my family and Duy's are in Vietnam, so our kids often call their grandparents every couple days. Facebook Messenger and even Facetime have fun filter features that keep them entertained and engaged. With friends, consider group texts to check in with your friends and support one another. 
Head outside safely
If you're in a non-contaminated area, take a walk around the block, or just your backyard to get some extra sunshine and exercise. If you're really worried then consider going in the early mornings.
Italians are doing it the old school way
As the whole of Italy is under lockdown and people are scared of even stepping out of their houses, it doesn't affect their spirits at all, as this video shows people singing from their balconies & playing music in a way to connect and lift each other up. Even in difficult times like this, it really warms your heart to see mankind in such solidarity 🧡
That's it from us. I will be sharing more ideas to spend time with your littles throughout the holiday via Instagram, so if that's what you need, remember to check out our stories every day! 
If you have any tips or activity ideas, please reply to this email or share with us, send us a DM, and I'll be sure to spread the words. I would love to hear from you! 
Stay safe and have a wonderful Spring Break 🧡
Hien & Duy,